PARTNERSHIPS
The mission of providing emergency services at Fire Station 6 is accomplished through a shared partnership between the FCVFD, City of Falls Church government, ACFD and the Arlington County government. Responsibilities for equipment, apparatus, facilities, and manpower are distributed and coordinated among all parties. The graphic to the right demonstrates the contributions of each party. The FCVFD recognizes the continued support of its partners and appreciates the tremendous dedication to this critical mission.

OUR MEMBERS
Our members come from all walks of life, and are of all ages. While our membership numbers fluctuate over time, we average 50 active members at any given time. Over half of our members are Virginia State certified Firefighter / Emergency Medical Technicians (EMTs), with the remainder being non-FF EMTs or new recruits.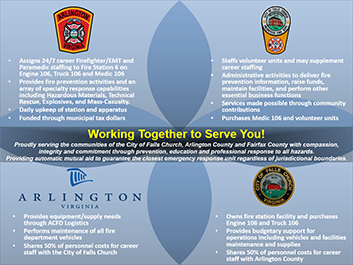 Fire/EMS Operations
Throughout the year, FCVFD firefighters respond along side and in support of ACFD career staff to numerous working fires and other large-scale incidents. During these incidents, volunteers perform a variety of functions, including placing ladders, providing and placing fans for ventilation, salvage, hose line management, breathing air replenishment, scene lighting for investigation support, firefighter rehab and overhauling fire areas.

The FCVFD also operates two Basic Life Support (BLS) ambulances known as Ambulance 102 and Ambulance 106. Ambulance 102 is regularly staffed on weekends and select weekdays for emergency assistance by fire department volunteers. Additionally, these units are placed in service during a number of special events and holidays for backup support. A significant benefit of this service is that, by treating and transporting lower severity patients, it enables ACFD Advanced Life Support (ALS) units to remain ready to respond to high-severity situations.

Severe Weather Events
Whether it's a severe ice or snowstorm, a hurricane or an earthquake, severe weather taxes the regular resources of the regional fire and rescue departments. Severe thunderstorms create an increased call volume for the fire department due to downed trees, power lines and lightning strikes. Extreme cold and winter weather cause utility outages, impassable roads, and flooding due to burst water pipes. In an effort to decrease the impact of these weather events on the availability of emergency resources, the FCVFD responds to public service calls by staffing our Ambulances, Utility Trucks, and Light and Air unit.

Fire and EMS Training
Year-round, The FCVFD offers its members a variety of comprehensive Fire and EMS training opportunities. All new members of the FCVFD go through an intense Recruit School, taught entirely in-house, before advancing to state-level Fire and EMT Training. Additionally, all members are required to attend monthly fire and EMS training meetings in order to continue to respond to emergency calls. Other training programs offered include ambulance operations, local, regional and statewide fire schools, U.S. Department of Homeland Security/FEMA courses and seminars, and continuing education for certified EMS providers.

Fire Prevention
FCVFD members participate in a number of fire prevention activities to educate the public on a variety of important topics. Surrounding National Fire Prevention Week, FCVFD members visit local schools to teach approximately 1,000 children ranging from pre-school to eighth grade about fire safety. To conclude fire prevention week activities, the FCVFD and ACFD personnel host the annual Fire Station #6 Open House. Citizens visit the fire station to learn fire safety tips, learn about our tools and vehicles, and watch demonstrations of fire and rescue techniques from both Volunteer and ACFD career personnel.

Santa Mobile
For over 45 years, Santamobile travels through the City of Falls Church and surrounding areas of Arlington and Fairfax County during the weeks before Christmas. Santamobile is the affectionate name for Engine 106B after it has been decorated with holiday lights, tinsel and a chair atop the hose bed for Santa himself. Members (Elves) follow alongside the truck distributing fire safety flyers to every household and candy canes to every person.