We annually solicit your support for the ongoing operations of the Falls Church Volunteer Fire Department (FCVFD) through a mailing to the Greater Falls Church area. This mailing is our Department's only annual appeal. Since 1925, our citizen volunteers have been serving neighborhoods in the City of Falls Church and surrounding Counties of Arlington and Fairfax. Our organizational mission to aid in the preservation of life and property is accomplished through cooperative relationships with the City of Falls Church government and Arlington County Fire Department.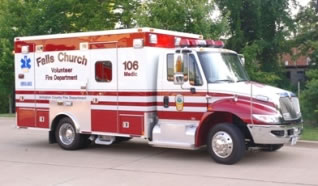 The proceeds of our annual fund drive are used to purchase and maintain equipment and facilities, train our personnel, and insure our human and property assets. Like you, our Department has been impacted by the current economic climate and downturns in investment returns. Costs rise while income remains steady or declines. Therefore, we depend upon your contributions more than ever to sustain our operations. FCVFD is a 501(c)(3) tax-exempt organization, making your contributions tax deductible to the fullest extent permitted by law.
Through your generosity, FCVFD operates several emergency response vehicles to serve our community. Our apparatus includes a fire engine, two basic life support ambulances staffed by our volunteers, an advanced life support ambulance staffed by full time Arlington County Paramedics, a first response utility vehicle, and a canteen unit. In addition to our on-going expenses, we continue to raise funds for our new "Light & Air" vehicle. This vehicle significantly enhances our response capabilities during fire, weather, and police emergencies (see additional information on the reverse side).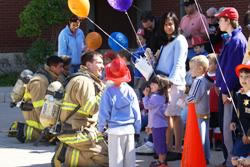 During 2010, FCVFD personnel contributed nearly 21,000 hours of service to the community. These hours included over 7,600 hours staffing emergency vehicles and responding to emergencies, as well as more than 8,100 hours training. In addition to emergency operations, the FCVFD also provides support for many local public events such as bicycle and running races, parades and high school football games. Throughout the year, volunteer personnel educate hundreds of citizens through visits to local schools, scout troops, and civic organizations, as well as birthday parties and other events we host at our fire station. Our fire prevention and public education activities culminate at our annual Open House during Fire Prevention Week in October.
While we hope that you do not need our emergency services in the year ahead, we are always ready to serve you and your family. We are also happy to help with fire prevention tips, materials, and speakers for schools, youth groups, and civic organizations. Your past generosity has enabled us to carry on a long and proud tradition of community service. We appreciate your continued support.
** NOTICE **
We frequently receive inquiries about solicitations from individuals claiming to represent fire service organizations, unions, or other groups. The requests are for journal ads, benefit concert tickets, or other projects. Some solicitations have been fraudulent and we have reported them to proper authorities. Please note that the Falls Church Volunteer Fire Department only receives donations mailed to the address printed on the return envelope or submitted online via PayPal. Approximately 85% of the donations received through our annual mailing are used for fire department purposes; the balance is used for printing and mailing.